Philosophy
"Screenwriting is a craft but it is also personal, a way of seeing the world, a state of mind and an everyday practice. My approach to teaching screenwriting and to course design – implicit in Screenwriting is Filmmaking – has developed out of a writing, directing and storytelling practice informed by theory and the relationship between film and all the other arts. Filmmaking is also a collaborative process, involving discussion, rewriting and the development of craft skills. I was keen in the book to explore the screenwriter's role in that process and the line between writing, directing and producing.
\"The course I designed and ran at the London Film School and reflected in the book has always been writer-centred and intensely practical. At the same time, it encourages the development of analytical and critical skills, a knowledge of the history of cinema and an understanding of filmmaking as essential elements in a collaborative process. As well as illuminating classical approaches and the historical context, I seek to stimulate alternative approaches to screenwriting through an awareness of different dramaturgical traditions."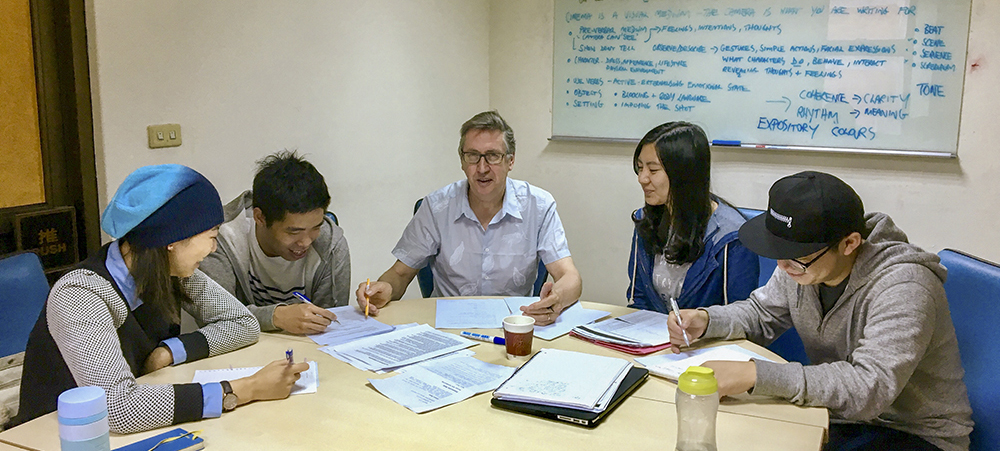 Brian teaching a screenwriting workshop in Taiwan; and with a group of graduates from his MA Screenwriting course at LFS, including, at the back, Gonzalo Maza, Oscar-winning screenwriter of A Fantastic Woman.
Praise for the MA Screenwriting course at the London Film School
Taking a year out to study at LFS was the best decision I have made.
CLYDE HARRIS, graduated 2015 
I can barely think of a teacher in my life who has really opened my eyes… Yet again, you bring something to make me feel and think deeply about what it is to be human.
RENE MOHANDES (C12)
I wouldn't be half the writer I am now without my time at LFS, so thank you.
SAMUEL JEFFERSON (BAFTA nominated)
It was always a pleasure to work in your department and I had such a great time with the space that you gave me on the course. It was a vital part of my own development as a teacher so I thank you for that.
ELLIS FREEMAN (Head of Screenwriting, DFFB Film School, Berlin)